Oral Cavity Tumor Removal
Primary tumor resection. The surgeon removes the tissue in your mouth that has the cancer, along with a little of the normal tissue around the tumor. If a large amount of tissue is removed, reconstruction may be used to rebuild the area. Doctors do this by taking normal tissue from another part of your body.
Oral Cavity Reconstruction
One of the founding principals in oral cavity reconstruction is to replace the lost tissue with similar properties. … Although small uncomplicated defects may be closed primarily or with a skin graft, larger defects may require vascularized tissue to obtain the reconstructive goals.
 

Removal Of Throat Tumor
Surgery to remove all or part of the pharynx (throat) is called a pharyngectomy. This operation may be used to treat cancers of the hypopharynx. Often, the larynx is removed along with the hypopharynx.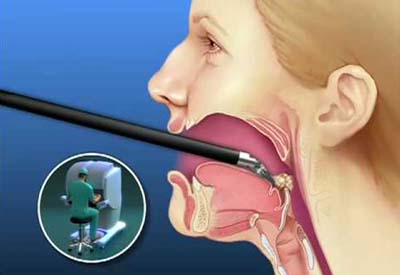 Robotic Cancer Surgery For Mouth / Thyroid Throat
Much to the relief of the patients, TORS is a minimally invasive procedure. In this, a surgical robot assists the doctors in getting rid of tumors in the mouth or throat. The surgeons place retractors in the patient's mouth to expose the exact area of the tumour.