The department of otolaryngology/head & neck surgery comprises 16 full-time faculty members, including three endowed chairs and two national institutes of health (nih)-funded research laboratories.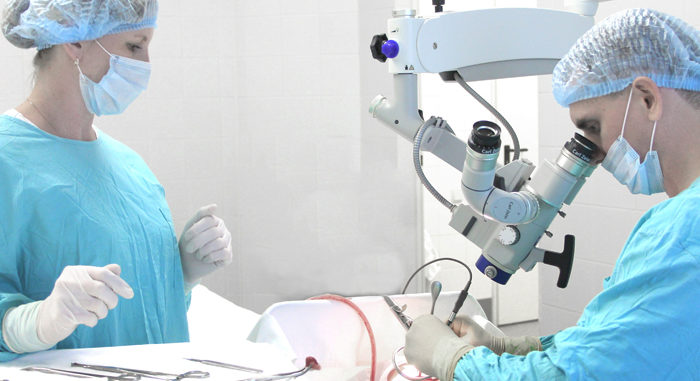 "we are very pleased to welcome larry lustig to our faculty," said lee goldman, md, dean of the faculties of health sciences and medicine, columbia university medical center. "his experience and success leading major research and clinical programs will help us continue to grow our department of otolaryngology/head and neck surgery's basic, clinical, and translational research programs and our clinical enterprise, including even stronger collaboration with faculty across our departments."
"dr. Lustig's extensive background in research and clinical care for hearing loss and related disorders will be pivotal to our continued provision of innovative, outstanding and patient-centered care, said steven j. Corwin, md, chief executive officer of newyork-presbyterian hospital. "his expertise adds significantly to the depth and breadth of our ent program, which addresses a range of health issues including hearing loss, benign and cancerous tumors, nasal and sinus disorders, voice and swallowing issues"
Dr. Lustig says he is excited to be joining "a fantastic institution with a wonderful history, a strong academic backbone, and a lot of potential for growth across the department's research and clinical programs.
"newyork-presbyterian and columbia university medical center have created an environment where people can succeed clinically and on the research side. There are few places in the world with this kind of balance, and I am looking forward to working at this fantastic medical center with such a rich history," said dr. Lustig.
Dr. Lustig treats the full spectrum of ear disorders in adults and children, as well as skull base disease. His specialties include skull base surgery, cochlear implants, the genetics of hearing loss, cochlear gene therapy, balance disorders, and hair cell physiology.
He has led several nih-funded research projects examining the underlying causes of hearing loss, including a recently completed a two-year $550,000 grant to explore cochlear gene therapy as a potential approach to treating children born with genetic forms of hearing loss. This work stems from an initial study in which he and colleagues demonstrated that the inner hair cell glutamate-transporter vglut3 is integral to the development of hearing, while a mutation of the transporter causes early profound hearing loss.
In follow-up studies, they demonstrated that virally mediated gene therapy can successfully restore the hearing phenotype in a mouse model of genetic deafness. Based on this work, they are currently exploring additional models of genetic deafness to see if these results can be duplicated. Nih has awarded a five-year grant to explore the use of virally mediated gene therapy to regenerate spiral (cochlear) ganglia—nerve cells that transport sound from the cochlea to the brain—to enable the sense of hearing.
Dr. Lustig's interdisciplinary research includes collaboration with an orthopedic surgery researcher at ucsf to study cochlear bone development. Using animal models and molecular techniques applied to bone growth and development, they are looking at how the material properties of bone enclosing the inner ear contribute to hearing. They anticipate that their findings may help further understanding of how metabolic abnormalities cause certain types of hearing loss, including otosclerosis, padget's disease, and other conditions that cause defective bone development.
Additional collaboration has included work with a pharmacologist at ucsf, where dr. Lustig studied the mechanism of hearing loss caused by platinum-based chemotherapies. Dr. Lustig has published more than 125 articles in peer-reviewed journals, as well as book chapters. He co-edited a textbook, "clinical neurotology: diagnosing and managing disorders of hearing, balance and the facial nerve."
In 2004, dr. Lustig joined ucsf, where he has served as chief of the division of otology & neurotology at both ucsf and san francisco general hospital, director of the douglas grant cochlear implant center, clinical chief of the otolaryngology service on the parnassus campus, and co-director of the center for balance and falls.
At ucsf, dr. Lustig teaches medical school classes, mentors otolaryngology residents, and supervises postdoctoral fellows. He also mentors high-school and undergraduate students, whom he hosts each summer and throughout the year in his clinic and research laboratory.
Before joining ucsf, dr. Lustig served on the faculty at johns hopkins university, where he was a member of the johns hopkins listening center and cochlear implant team. He also completed a fellowship in otology, neurotology, and skull base surgery at hopkins.
New York, Ny (January 15, 2014) — One Of The Nation's Leading Experts In Hearing Loss, Lawrence Lustig, Md, Has Been Appointed Chair Of The Department Of Otolaryngology/head And Neck Surgery At The Columbia University College Of Physicians And Surgeons And Otolaryngologist-in-chief At Newyork-presbyterian/columbia University Medical Center, Effective July 1, 2014. Dr. Lustig Is Currently Professor Of Otolaryngology/head And Neck Surgery At The University Of California, San Francisco (Ucsf). Read More On The Cumc Newsroom (Link Is External).